Emma is an Aeronaut merchant for Nidarian Guard members.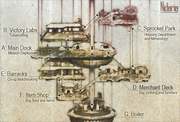 A
Nidarian Guard
only shop selling both clothing and furniture. Non-members may view the shop's inventory, but are unable to make purchases. All purchases must be made using
brass
.
Instead of the constant character preview displayed at the Clothing Emporium, selecting a piece of clothing takes you to a preview screen with the article equiped. Furniture previews are identical to Wystan's Furniture Outlet.

Interestingly, Emma's Stockpile is the only Nidarian Guard exclusive shop to feature items without a limit on when they can be purchased with none of her clothing being seasonal.
Inventory
Edit
Furniture
Edit