Madame Bristlecone (09/24/114 AH - Present) is the owner of the Nidaria's Item Shop. She comes from the Ferric Cedrus Tribe of the Timber Marsh, and seems at first reluctant to deal with outsiders. After you help her a little, she warms up to you. She adds her own knowledge of wildcraft and Ferric Herbal Lore to all of the things she sells, and is a masterful cook.
Sidequests
Edit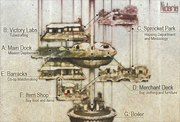 Item Shop

Deck F Item Shop: Madame Bristlecone
Information
Type:
Shop
Location:
Nidaria - F: Item Shop
Inhabitants:
Madame Bristlecone
The Item Shop allows players to buy food, plant seeds, cures, and other supplies. The food and cures changes daily, with certain foods available only on certain days of the week.
Items purchased by a player's character in the Item Shop are only available to that character, not to other characters in that player's account.
Nidarian Guard members receive a 10% discount on purchases using spores.
Inventory
Edit
This is a list of items always being sold in the item shop. The Seeds, the Bundles (packet of food) and the Supply Items are sold every day. The other items are occasionally sold in particular days of the week (which are also indicated in the table below; O=yes, X=no).
| Item | Cost | Type | Effect | Hp/ | Days |
| --- | --- | --- | --- | --- | --- |
| Acid Phosphate | 200 | Cure | Cures Poisoned | -- | Su,T |
| Ackee Fruit | 50 | Food | 60 HP | 1.20 | M,S |
| Aged Cheese | 82 | Food | 125 HP | 1.52 | T,F |
| Aromatic Spirits | 200 | Cure | Cures Drained | -- | M,W |
| Baked Beans | 82 | Food | 125 HP | 1.52 | S,Su |
| Bean Seeds (5) | 30 | Seeds | Gardens Beans | -- | All |
| Bear Filtrate | 200 | Cure | Cures Sprained | -- | Th,S |
| Beef Jerky | 95 | Food | 150 HP | 1.58 | S,Su |
| Boiled Cider | 70 | Food | 100 HP | 1.43 | T,Th,S |
| Boiled Sweets | 170 | Food | 300 HP | 1.76 | M,Th,S |
| Butterscotch Fudge | 157 | Food | 275 HP | 1.75 | T,Th,S |
| Canned Sardines | 82 | Food | 125 HP | 1.52 | M,Th |
| Carrot Seeds (5) | 30 | Seeds | Gardens Carrots | -- | All |
| Chocolate Bundle (5) | 350 | Bundle | 250 HP (x5) | -- | All |
| Chocolate Ration | 145 | Food | 250 HP | 1.72 | M,W,F |
| Clover Extract | 200 | Cure | Cures Jinxed | -- | Su,T,F |
| Cloudberry Juice | 57 | Food | 75 HP | 1.32 | T,F |
| Cocoa Milk | 82 | Food | 125 HP | 1.52 | Su,W,F |
| Cold Cream | 200 | Cure | Cures Burned | -- | Su,T,F |
| Corned Beef | 145 | Food | 250 HP | 1.72 | W |
| Cotton Seeds (5) | 30 | Seeds | Gardens Cotton | -- | All |
| Cream Soda | 57 | Food | 75 HP | 1.32 | T,F |
| Curative Ointment | 200 | Cure | Cures Burned | -- | F,S |
| Dahlia Seeds (5) | 30 | Seeds | Gardens Dahlias | -- | All |
| Deer Musk | 200 | Cure | Cures Sprained | -- | Su,T,F |
| Deionized Dust | 200 | Cure | Cures Shocked | -- | M,W |
| Digestive Biscuit | 82 | Food | 125 HP | 1.52 | W |
| Dragon Fruit | 50 | Food | 60 HP | 1.20 | T,Th |
| Earl Grey Tea | 70 | Food | 100 HP | 1.43 | M,W,S |
| Egg Lime Fizz | 82 | Food | 125 HP | 1.52 | Su,T,W |
| Elixir of Vitriol | 200 | Cure | Cures Poisoned | -- | M,W,Th |
| Fiddlehead Fern | 45 | Food | 50 HP | 1.11 | T |
| Fresh Longans | 57 | Food | 75 HP | 1.32 | M,W,S |
| Fresh Milk | 82 | Food | 125 HP | 1.52 | M,Th,S |
| Ginger Ale | 57 | Food | 75 HP | 1.32 | Su,W,S |
| Ginger Seeds (5) | 30 | Seeds | Gardens Ginger | -- | All |
| Granola Bar | 95 | Food | 150 HP | 1.58 | M,Th |
| Huckleberry Juice | 57 | Food | 75 HP | 1.32 | M,Th |
| Jalapeno Seeds (5) | 30 | Seeds | Gardens Jalapenos | -- | All |
| Licorice Allsorts | 170 | Food | 300 HP | 1.76 | Su,W,F |
| Marmalade Ration | 145 | Food | 250 HP | 1.72 | Su,T,Th |
| Marshmallow Fizz | 70 | Food | 100 HP | 1.43 | Su,W |
| Mentholated Vapor | 200 | Cure | Cures Drained | -- | Th,S |
| Milkweed Pod | 45 | Food | 50 HP | 1.11 | M,F |
| Mixed Nuts | 120 | Food | 200 HP | 1.67 | Su,W,F |
| Neutralize Starch | 200 | Cure | Cures Shocked | -- | Th,S |
| Old Hardtack | 95 | Food | 150 HP | 1.58 | T |
| Onion Seeds (5) | 30 | Seeds | Gardens Onions | -- | All |
| Peanut Brittle | 157 | Food | 275 HP | 1.75 | Su,T,F |
| Pieces of Seven | 200 | Cure | Cures Jinxed | -- | Th,S |
| Potato Seeds (5) | 30 | Seeds | Gardens Potatoes | -- | All |
| Potted Pork | 145 | Food | 250 HP | 1.72 | M,F |
| Prayer Feather | 250 | Supply | Memorial's offering | -- | All |
| Pumpkin Seeds | 120 | Food | 200 HP | 1.67 | T,Th,S |
| Pumpkin Seeds (5) | 30 | Seeds | Gardens Pumpkins | -- | All |
| Radish Seeds (5) | 30 | Seeds | Gardens Radishes | -- | All |
| Ripe Cloudberry | 50 | Food | 60 HP | 1.20 | Su,W |
| Ripe Pawpaw | 50 | Food | 60 HP | 1.20 | F |
| Saltwater Taffy | 157 | Food | 275 HP | 1.75 | M,W,S |
| Sarsaparilla | 57 | Food | 75 HP | 1.32 | M,F |
| Smelling Salt | 200 | Cure | Cures Drained | -- | Su,T,F |
| Snake Oil | 200 | Cure | Cures Sprained | -- | M,W |
| Sweet Makopa | 57 | Food | 75 HP | 1.32 | T,Th |
| Sweet Makopa Bundle (8) | 250 | Bundle | 75 HP (x8) | -- | All |
| Talcum Astringent | 200 | Cure | Cures Shocked | -- | Su,T,F |
| Tomato Seeds (5) | 30 | Seeds | Gardens Tomatoes | -- | All |
| Turmeric Seeds (5) | 30 | Seeds | Gardens Turmeric | -- | All |
| Vimvigor Salve | 200 | Cure | Cures Burned | -- | M,W |
| Wild Huckleberries | 45 | Food | 50 HP | 1.11 | Th,S |
| Wild Spruce Tip | 45 | Food | 50 HP | 1.11 | Su,W |
| Wild Sweetsop | 57 | Food | 75 HP | 1.32 | Su,F |
| Wishbone Marrow | 200 | Cure | Cures Jinxed | -- | M,W |
| Wormwood Tonic | 200 | Cure | Cures Poisoned | -- | Th,S |