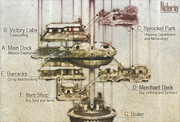 Otto von Tesla (1/22/165 AH - Present) is the head scientist at Victory Labs. His assistant, Gerard can be found in the same building. He owns the tube crafting depot, and forges tubes from Etherite Geodes gathered from fungus mimics in both Adventure Gameplay and Trailblazing. He enrolled into the Elite college of Electroneers in 186 AH and graduated in 194 AH as Valedictorian of his graduating class. Tesla is credited with the discovery of Etherillium Tubes, finding that within a vacuum, electrically charged coils of Etherillium will decay, emitting pure Ether. He buys Glass Bars for 100 Spores, and Etherillium Rolls for 200 spores.
Store Prices
Edit
Sidequests
Edit
Daily Quests
Edit
Nidarian Guard Exclusive!

The Sidequests OT0003 and OT0004 aren't officially listed, but they once facilitated transactions where Glass Bars and Etherillium Rolls were sold; these selling operations were treated by the game's inner mechanics like any other quest (even if invisible to players).
The name "Tesla" is a reference to the great inventor and engineer Nikola Tesla, whose work gave birth to commercial use of electricity as we know it today. Among his inventions were the AC motor and a number of transformers, including the famous Tesla coil.